The Brows of your Dreams are Now a Reality. Introducing Brow Lamination – A Dream Come True. Originating from Eastern Europe and quickly gaining popularity in the United States, brow lamination is the latest trend in eyebrow shapes and treatments. Full brows are often achieved by microblading, a form of semi-permanent tattooing. However, there is a new method on the block that is quick and painless, with amazing results lasting four to six weeks.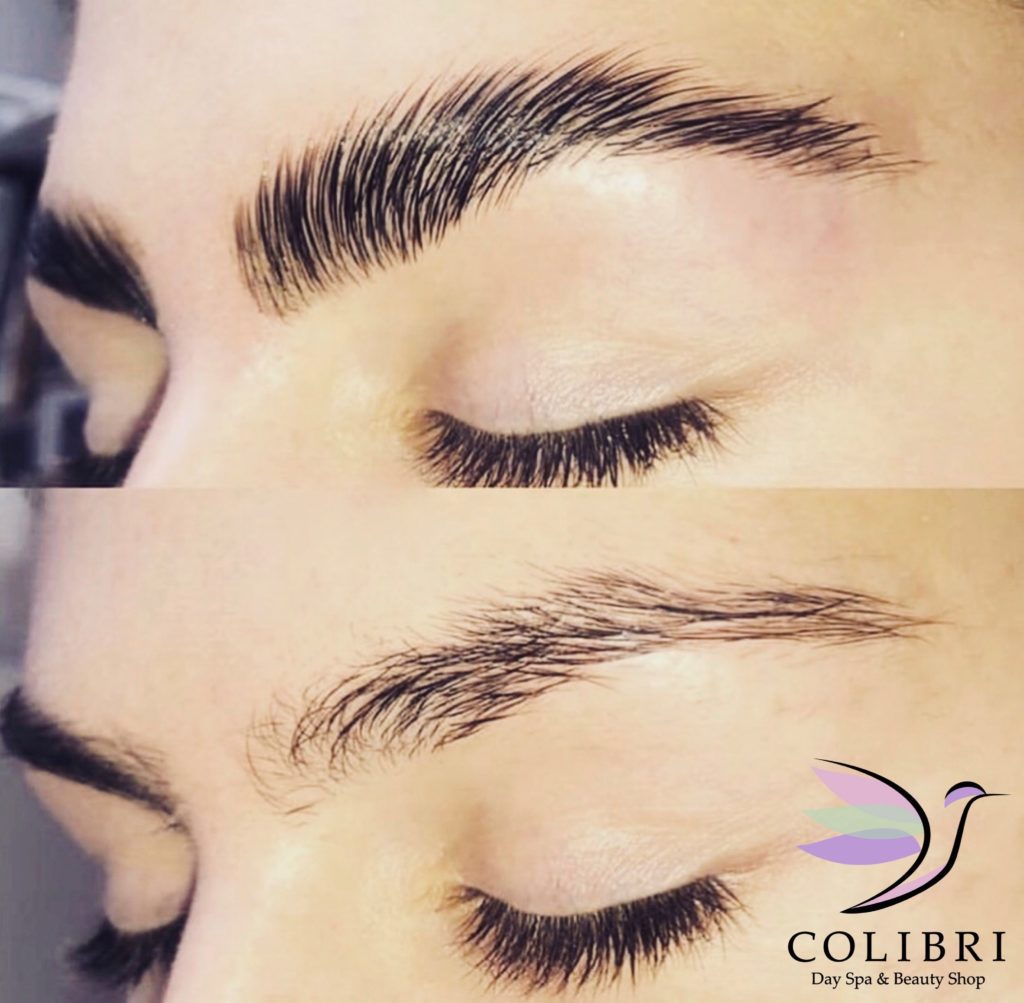 Eyebrow lamination uses non-harmful chemicals to straighten the hair shaft, which makes them more malleable. It also uses keratin to promote healthy growth, adding fullness of body and a glossy texture. After eyebrow lamination, you can manipulate your brows into whatever shape you want by brushing them, up, down, or to the side. Unruly brows have finally met their match!
Eyebrow lamination begins with the application of a chemical lifting cream, which is then covered in plastic and left to set, after which a neutralizing cream that strengthens the hair follicle is applied. Brows are then carefully shaped, and then tinted if you prefer an even fuller look. Et voilà, you now have the most sensational brows you've ever seen in only 45 minutes. They're not too thick, they're not too heavy, but they are stunning and completely natural-looking. In fact, weeks after the treatment, you will still love the results. Perfect brows over lunch break? Sold.
Eyebrow lamination is becoming very popular, but there aren't many reputable places in Sarasota to get it done. This is why we are delighted to offer this new service at Colibri Day Spa & Beauty Shop. Although we offer other treatments like microblading, facials, lash lifts, and more, the elusive eyebrow lamination service priced at a very reasonable $70 is a great find. Our staff is warm and friendly, instantly easing you into the eyebrow lamination process by disclosing each step, the length of time it will take, and the incredible effect it will have on your brows.
Book your appointment today at colibrispa.com, or call our front desk at 941-800-1818.
We look forward to seeing you!
"All I Want is World Peace…and Perfect Eyebrows"