The Carbon Laser Peel Facial
The Carbon Peel Laser Facial is the perfect choice for anyone looking to improve the texture, toning, and brightening of their skin. Targeted laser energy provides gentle exfoliation and resurfacing to make your skin look more healthy and rejuvenated. Also known as "The Hollywood Laser Peel" and "Red Carpet Peel" - celebrities love this treatment. It will enhance the smoothness of your skin and illuminate your skin tone. Includes deep cleansing, exfoliation, extractions, tailored masque, serums, ultrasound infusion, microcurrent, and high-frequency modalities.
Foot, arm, neck, and shoulder massage included.
$250
80 minutes
The Carbon Laser Peel
$150 - 30 minutes
Say goodbye to fine lines, wrinkles, and blemishes with the Carbon Laser Peel. This incredible treatment will literally change the way you look. You'll have brighter, softer, more youthful looking skin in no time. The Carbon Laser Peel is the essence in beauty - gentle exfoliation and cleansing with no harsh chemicals. Unlike other chemical peels, the Carbon Laser Peel is safe, effective and has zero recovery time. Service time is about 30 minutes - and you'll notice the difference right away. Discover why so many A-list celebrities love the Carbon Laser Peel.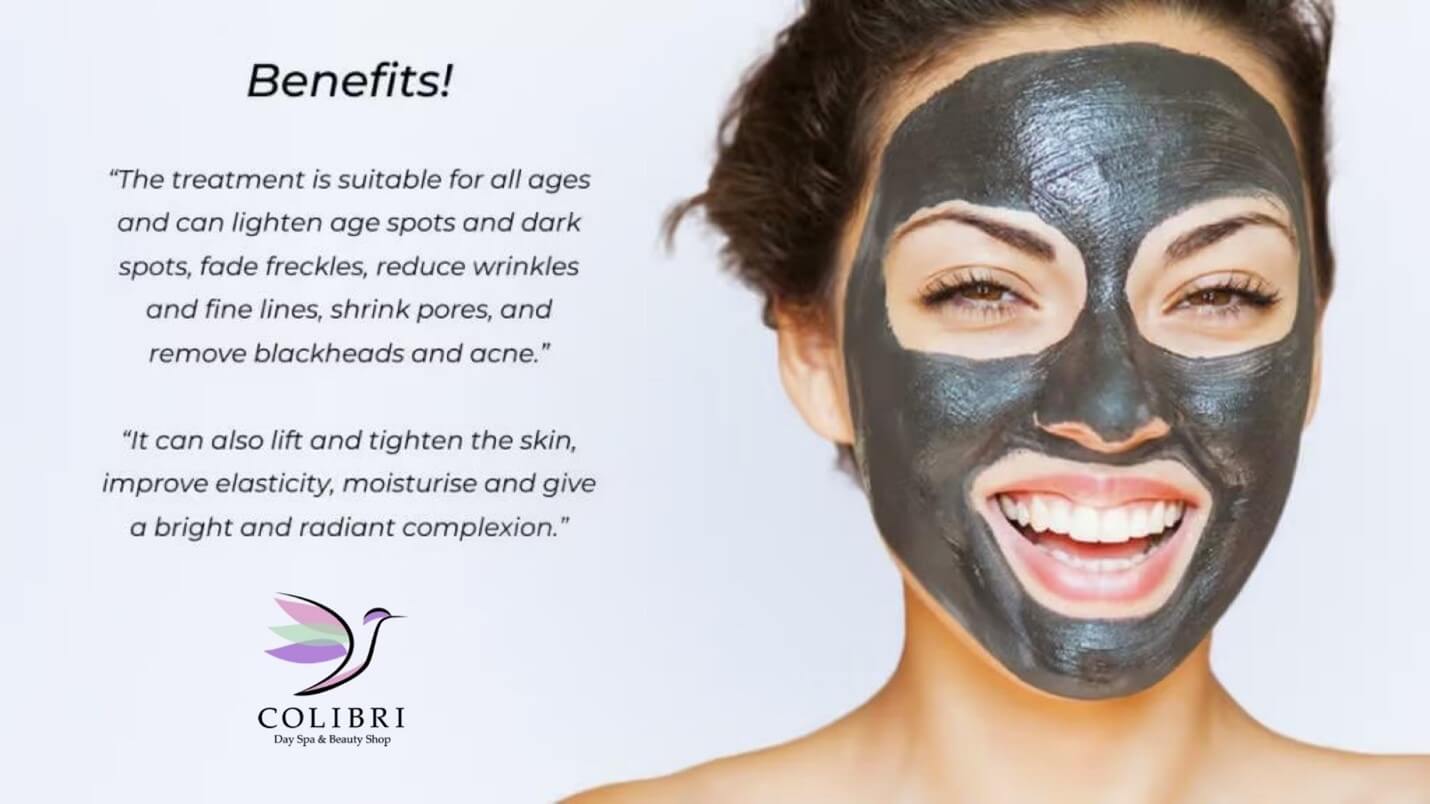 Carbon Nano Particles Applied
To begin, a face mask of mineral-rich carbon is prepared and delicately applied to your face. It will look like you're wearing a mud mask. And then your esthetician will provide eye protection for the next exciting step.
Laser Heat for Penetration and Absorption
As the carbon mask is heated by laser, increased carbon absorption takes place to provide deep penetration into the skin. This properly prepares the skin for resurfacing and remodeling. The 1060 nm laser passes over the skin emitting pulses of heat to stimulate collagen and fibroblast activity.
Stimulation of Skin Cell Regeneration
Next, the specialized laser switches over to Q-switch mode to lightly exfoliate. You will hear a soft snapping sound as the carbon is blasted off the skin. You may feel a light tingling sensation. This superficial peeling process removes excessive oil, exfoliates the upper layer, and unclogs pores.
Final Pass for Skin Remodeling
The final pass with the laser is completed to ensure all carbon particles have been removed. The laser frequency is gradually increased to finalize the session and perfect the process of skin resurfacing and remodeling.
Carbon is a powerful and natural purifying agent. It doesn't just absorb toxins, but wildly attracts them. Because carbon has such penetrative properties - it will infuse deep into your skin to remove unwanted debris and impurities. The Carbon Laser Peel is 4 times stronger than any other peel. It removes dead skin, oils, and impurities all at the same time - making it the most effective exfoliation available. Try the Carbon Laser Peel today and discover the difference.
At Colibri Spa – it's all about you.